Used Equipment Policies, Grading Scale, and Abbreviations
We make every attempt to insure the correctness of this web page, However, all typographical and printing errors are subject to correction. Prices on all items are subject to change without notice.
WARRANTY

All used equipment (except flash tubes and modeling lights) comes with a warranty period of three months unless stated otherwise. All used equipment comes with a penalty-free period of evaluation by the customer as well. This is a two-day period and begins upon the receipt of your order. All non-warranty returns after this period will be subject to a 15% restocking fee.
SHIPPING

The minimum price for shipping an item is $12.00. Acceptable methods of payment include: VISA, MasterCard, Discover and American Express. The use of a Customer FedEx account will be subject to a small handling fee. Orders received and confirmed through e-mail by 1:00 pm EST will be shipped the same day; otherwise the shipment will be made the following business day. Shipping charges are not refundable. All shipments FOB destination.
INTERNATIONAL CUSTOMERS
Acceptable methods of payment are a money order or a certified US funds check. No credit card payments will be accepted.
APPRAISAL

Equipment can be shipped to Jack's for appraisal. In the event that a mutual agreement on price cannot be reached, Jack's will return your equipment pre-paid and insured.

GRADING SCALE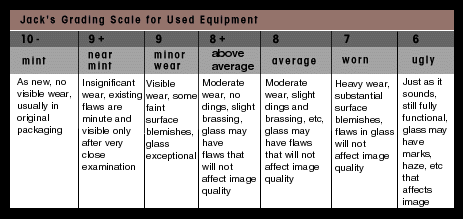 ABBREVIATIONS
| | | | | | |
| --- | --- | --- | --- | --- | --- |
| ACC | accessory | FOC | focus | REV | revolving |
| ANG | angulon | FE | Front element | ROD | rodenstock |
| APER | aperture | FLTR | filter | SCH | schneider |
| BATT | battery | FNDR | finder | SEP | separation |
| BD | black dial | FUJ | fuji/fujinon | SER | series |
| BLK | black | HZ | haze | SF | soft focus |
| BLWS | bellows | IB | in original box | SL | slight |
| BRKT | bracket | INOP | inoperative | SLOW | shutter speeds slow |
| CAL | caltar | KDK | kodak | SNRN | sinaron |
| CAN | canada | LNHF | linhof | SRNR | sironar |
| CHGR | charger | LTHR | leather | SS | single stroke |
| CLMK | cleaning marks | MAG | magazine | ST | self timer |
| CMPD | compound shutter | MK | mark | STD | standard |
| CMPR | compur shutter | MKFE | mark front element | SVSD | serviced |
| COL | collapsible | MKRE | mark rear element | TS | tilt shift |
| CPL | copal shutter | MM | mismatched serial numbers | VER | version |
| CSE | case | MOD | model | VF | viewfinder |
| DS | double stroke | MTR | meter | WL | waist level |
| DSH | dark slide holder | NKL | nickel | WNDR | winder |
| DST | dust | NKMT | nikkormat | | |
| EFU | electronic flash unit | PRST | preset | | |
| EKT | ektar | RD | red dial | | |
| ENG | engraved | RE | rear element | | |